1.

Creative and fun to use
GameSynth offers many procedural audio models , each with a unique and innovative graphic user interface adapted to the type of sounds you want to create (for impacts, sound particles etc.).
The Procedural Audio Sketch Pad lets you draw very expressive sound effects with your mouse or graphic tablet in real-time (including support for position, speed, and pressure). Ideal for whooshes, contacts etc.
Game-specific synthesis modules and features make it a lot more fun and quicker to create the sounds you hear in your head (compared to Pure Data for example).
2.

Super productive
GameSynth offers the same concepts across all procedural audio models, making it easier to design sounds in the tool and to implement them in the run-time.
Most operations, from generating new resonant materials to assigning automation curves, meta-parameters or random ranges, can be done in one click!
Automatic rendering of sound variations helps you fight audio repetitiveness and create sfx libraries or placeholder assets faster.
Automatic export to DAW and game (audio) middleware such as Reaper, Wwise, FMOD Studio, ADX2, Unity or Cocos2D creates components, containers and even writes scripts on the fly.
The command line version allows for the creation of thousands of random sounds in one click, the automatic generation of variations or the export of binary banks to your game.
3.

Infinite sound palette
Uncompromising audio quality, from pure synthetic sounds to ultra-realistic ones using samples.
Models can use sound analysis to extract features of existing sounds in order to create realistic patches.
Each parameter can have its own random range, with the patch having a global variation percentage.
Many specific models are available, and you can create your own models in the visual patching environment.
4.

Extendable platform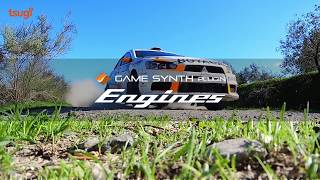 Each free update comes with new models (recent additions include Particles, VoiceFX, Footsteps…)
More than a tool, GameSynth is also a platform that supports 3rd-party plug-ins.
By using GameSynth, you are sure to get state-of-the-the-art procedural audio technology from leaders and innovators in this field, such as NoiseMakers for environmental sounds and SDL for car engines.
5.

Increased audio interactivity
Direct access to the sound synthesis parameters allowing for more control than with sample playback.
GameSynth reacts to the game's inputs through the Meta-Parameters of the patch (similar to RTPCs).
It can also send synthesis events to the game (e.g. new LFO cycle, new envelope segment, end of a sound particle) to synchronize the animation and other game subsystems with audio.
6.

Ultra-low memory footprint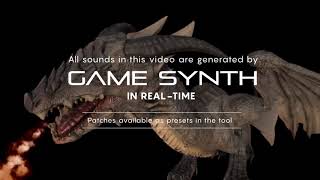 Only the patch parameters are saved, no samples, so the memory footprint is orders of magnitude smaller than with conventional sample playback.
Near-infinite sound variations can be generated at run-time from the same set of parameters and random ranges, without using more memory.
For example, here is a full dragon model (footsteps, wings, tail, roar, fire breathing) in less than 6 kB.
7.

System agnostic run-time
The GameSynth run-time can run independently or in conjunction with a game (audio) middleware.
It generates audio buffers in real-time that you can pass to a Wwise, FMOD Studio or ADX2 voice and responds to RTPCs / AISACs.
You can also use it directly with the native library of your target platform or with the audio subsystem of Unity or Unreal.
You can switch your game engine or audio middleware in the middle of the project or between projects and keep using your GameSynth patches.
Closer integrations and plug-ins will be provided for selected game audio middleware in the future.
8.

Scalable and optimized run-time
Model settings allow for the adjustment of CPU usage and memory footprint at the patch level and for each target platform.
Processing is optimized across models, which is not possible with middleware using plugins from different vendors.
9.

Numerous resources
Many presets in the tool – for all types of games – as well as an online repository where users can share procedural audio patches.
Several extra manuals, including a 100+ page introduction to visual patching presenting useful techniques and a detailed reference.
Many tutorial videos about the procedural models.
This blog on which 40+ posts have already been published, many on GameSynth and procedural audio.
A growing community of talented sound designers from game studios all around the world.
10.

Low cost
For the price of a single plug-in you get a full visual patching system and many specialized synthesizers for impacts and contacts, whooshes, sound particles, and more!
Studios can lower the cost further by taking advantage of our multi-license and site license offers.
Teachers and students can benefit from our 50% educational discount!